Many vehicles such as the 2015 Ford F-150 feature a high-strength aluminum alloy body that offers numerous benefits.  They include less total weight for better gas mileage, an improved power-to-weight ratio, and a rust-free exterior. 
Along with the advanced aluminum construction come repair considerations and complexities that many shops are not trained or qualified to complete.  That's why the Byerly Collision Centers are proud to be one of the few auto body repair shops in Louisville Kentucky certified to fix the aluminum body F-150, both structurally and mechanically.
Making aluminum alloy body repairs requires both a variety of special equipment and training to ensure a properly finished end product. 
S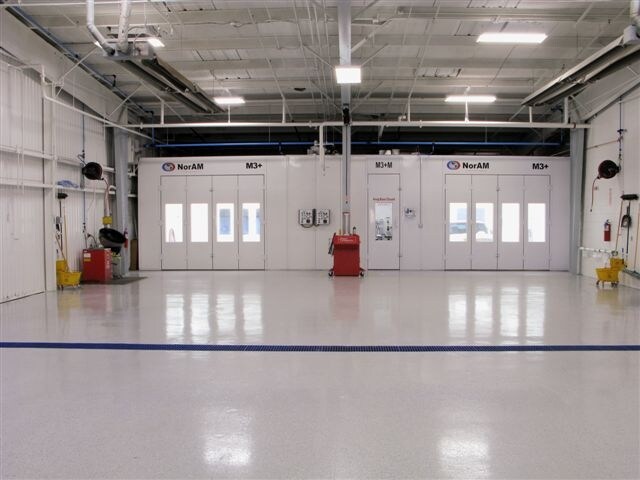 ome of the many equipment and shop environment requirements to properly repair aluminum include:
A clean environment, including proper wet mix air filtration and complete separation from all other steel repairs.
An aluminum welding system.
Hand and power tools for aluminum.
Equipment for aluminum dent removal.
When it comes to training, certified shops like Byerly's collision centers have prepared their staff for the aluminum body vehicles repairs with an extensive curriculum of classes and training designed to ensure restoration back to the original factory specifications.  Ford Motor Company collaborated with I-CAR on a specific F-150 structural repair course which has served as a backbone to this training regimen completed by the Byerly body shops, in addition to numerous other aluminum classes offered by I-CAR including cosmetic repair, aluminum welding certification and more.  This highly specialized training combined with our many years of experience help ensure that we are able to complete your repair project correctly and efficiently.
As a recognized facility for the Ford National Body Shop Network, you can be assuted that you're dealing with knowledgeable and qualified technicians when you work with the Byerly Body Shops of Louisville.

The Byerly Collision Centers have been repairing body panels for years.  Our facilities have the dedicated equipment and skilled repair technicians to provide exceptional quality and value for your aluminum collision repair.
Please call (502) 371-5185 for your free estimate.